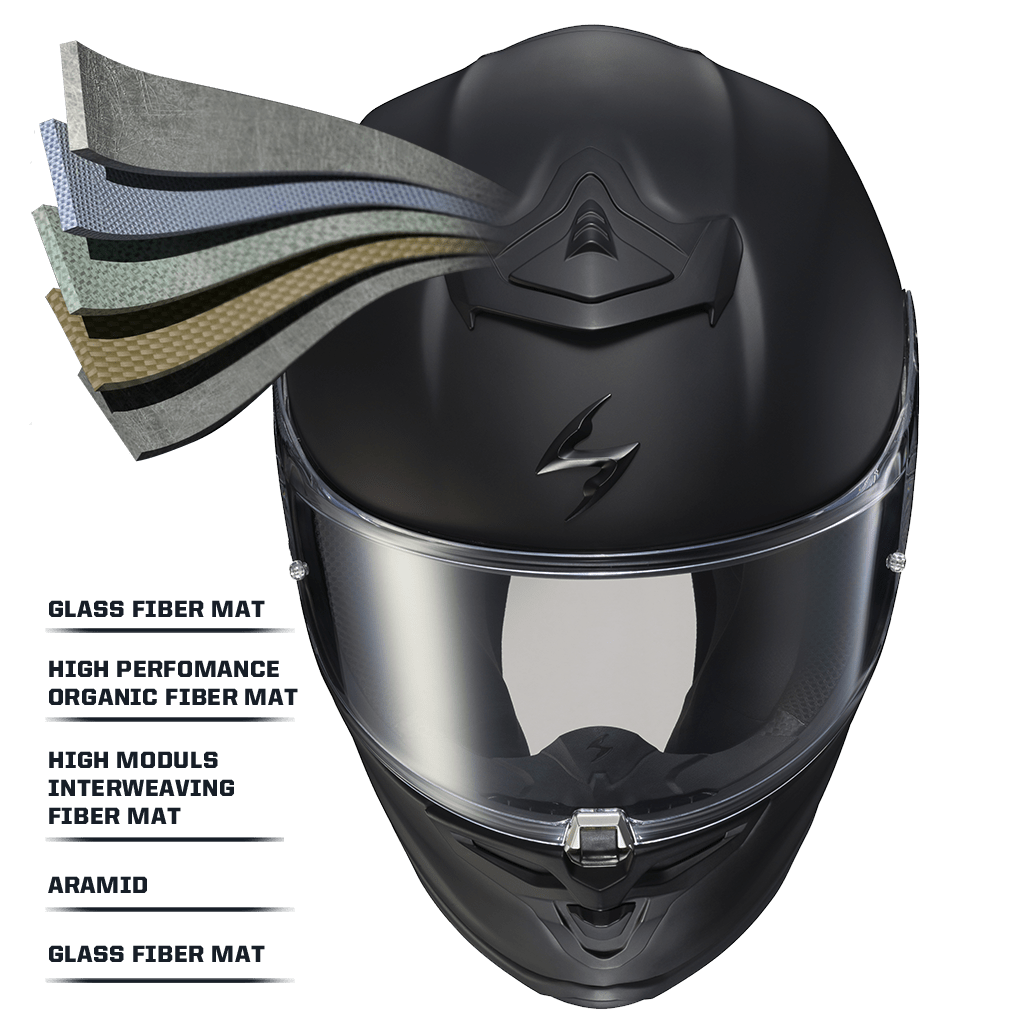 Ride with the confidence in knowing that the R1Air meets the same level of protection that our world class WSBK and MotoGP pilots demand. This is thanks to the combination of our multilayered, resin-infused TCT Ultra composite shell and multi-layered, multi-density impact absorbing EPS liner that work in tandem to dissipate and absorb impacts.

In addition to premium materials, the R1 Air was precision engineered to protect with details like a bottom edge profile specifically designed to minimize clavicle damage and increase the rider's range of mobility. Additionally, no portion of the main shell sculpture protrudes more than 5mm. This not only minimizes rotational stresses in the event of an impact, it also helps minimize overall weight.
Sculpted not only to slip through the air at speed, the R1 Air's refined aerodynamics will impact your ride in more ways than you might think … 1). Dramatic reduction of noise levels by projecting dirty/noisy air away from the shell 2). Reduced rider fatigue by drastic reduction in wind resistance 3). Amplified ventilation performance by creating a venturi effect pulling heat and humidity out the integrated exhaust vents. So if its on-track performance you demand or comfort on you daily commute, the R1 Air's refined aerodynamics is something you can feel no matter how or what you ride!
Complimenting aerodynamics and lightweight construction, the R1 Air was specifically sculpted to provide a neutral medial balance. Yet another important detail resulting in a significant reduction in rider fatigue.
Complimenting quiet aerodynamics, the R1 Air also features a combined chin curtain and wrap around neck roll design that not only seals out the wind turbulence created by the bulging individual cheek pads, the resulting streamlined bottom edge eliminates it altogether.
The R1 Air comes standard with both a clear and dark smoke Pinlock® MaxVision shield and film. This industry leading anti-fog protection is complimented by an adjustable internal air channeling system that redirects incoming airflow from the mouth vent towards the inside of the shield surface. In addition to a clear shield, the eye port was specifically designed to provide a massive (190° horizontal and 100° vertical) visual field of vision.
Anchoring the Pinlock® MaxVision® shield is the Elliptec® II ratchet mechanism. Called Elliptec® because of its elliptical rotation, the double-axis movement pulls the shield firmly into and against the injection molded eye port gasket and locks securely into place with its center locking mechanism. This ensures that all elements stay on the outside and simultaneously aids in noise reduction.

As impressive as the upper and lower ram-vent intakes appear, it's what happens underneath that's the key. These external intakes redirect incoming air to 4 internal ports that flow through 6 deep internal channels. This flow literally pulls heat and humidity up and out by the 4 port rear spoiler combination via aerodynamic venturi effect.
On the inside, to compliment the 3D sculpted intermediate oval EPS, the R1 Air features premium materials like the breathable, moisture wicking KwikWick® III liner that envelopes both crown liner and cheek pads. But what is truly unique to ScorpionEXO is the customizable. AirFit® adjustment system. An inflatable air bladder system integrated into the cheek pads allowing the rider to adjust to their preferred firmness.
2022 MOTO GP

SUPERBIKE WORLD CHAMPION
Great helmet light weight, quiet, aerodynamic and good air flow when the vents are open. Love the tinted visor. It's dark enough on a bright sunny day and still clear enough to use at night.
31 yrs riding.. Helmets have come a LONG way and for the $$ this has to be the best helmet I've every owned.. super comfortable, great noise reduction from their prior 710 and 420, love the air-fit system and the linings are top quality.. again, best sport helmet on the market for the $$ that I've seen.. well done Scorpion.
I wear this and my agv k6 collects dust! Super comfortable barley heavier and has more features. Better air flow has a little air pump and bladder to snug the fit around the sides of your head. Very stylish aggressive look.